Seton Youth ministry wishes you, your family, and all of your loved ones a very blessed Good Friday, Holy Saturday, and Easter Sunday.
Please take a few minutes to look over our post and remember everything that Christ has done for us and taught us as we close the Lenten season and prepare to enter into the Easter season.
Last week, Seton Youth Ministry and 700 other members of the Dioceses of Wilmington participated in the annual Diocesan Pilgrimage.  Adult leads Madeline Trujillo, Arturo Trujillo, and Matanda Mondoa accompanied youths Daniela Trujillo, Michael Trujillo, Omaris Ortiz, Francis Chacko, and Thomas Vadden through the pilgrimage.  Also, youth lead Ashlyne Yeuteuh worked behind the scenes during the pilgrimage.  Her responsibilities with the pilgrimage involved preparing music.
During the pilgrimage, pilgrims went from church to church in Wilmington remembering the path Jesus walked to his crucifixion by doing many different things such as praying, singing, observing a stations of the cross, taking turns carrying a cross while walking through the streets of Wilmington, and celebrating mass.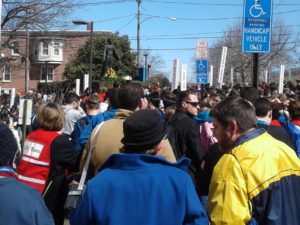 Pilgrims praying in front of St. Francis Hospital.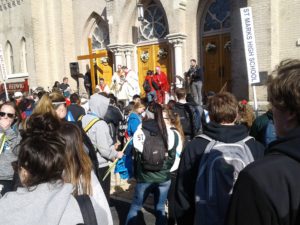 Bishop Malooly giving a blessing in front of a church.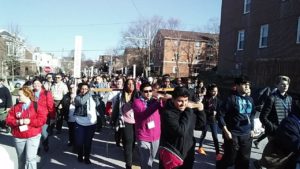 Members of Seton Youth Ministry carrying the cross through the streets of Wilmington.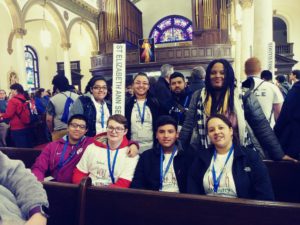 Seton's group within one of the churches.
Our final picture after the pilgrimage closing mass. Youth Ministry Coordinator James Holman was able to make it for the mass 🙂
Our adult leads and youths had a lot to say about their experience.  Listen to what they said:

Youth Lead Ashlyne Yeuteuh said,
"Being part of a group that organizes an event (the pilgrimage ) is cool but seeing 700 people attend the event is overwhelming. Seeing everyone at the pilgrimage enjoying themselves, participating and learning new things just gets me all hyped up. The YLT (Youth Leadership Team) did their best to make this event a success from arranging tags and backs to the sound production for the Passion of Christ but not forgetting  others who helped with the Pilgrimage. This years pilgrimage was exciting, amazing, heartwarming and educative for everyone who participated. It was amazing, cannot wait for the next pilgrimage."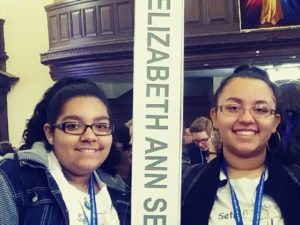 Youths Daniela Trujillo (left) and Omaris Ortiz (right) said,
"We enjoyed meeting new people, learning new songs, and dancing."
Adult lead Matanda Mondoa said,
"We got to carry the cross at the last leg of the journey.  It's heavier than it looks!"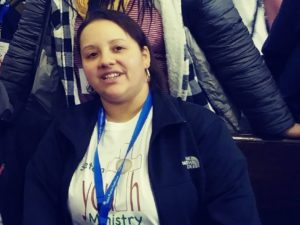 Adult lead Madeline Trujillo said,
"I enjoyed that the singer (Luke Spehar) met and sung at every church."
Once again, we wish all of you a very happy and blessed Good Friday, Holy Saturday, and Easter Sunday.  Enjoy the break, and we'll see you again at youth ministry when we start again on April 15th!